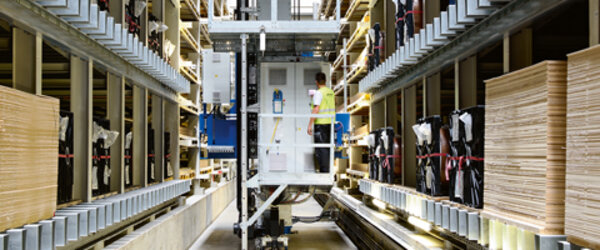 Impressive performance: 45-ton stacker crane integrated during ongoing operation
In 1961, Tyrolean entrepreneur Fritz Egger proves himself a man of vision by establishing his first chipboard plant. Today, EGGER Wood Products is a leading international manufacturer of wood-based materials. With 17 production plants in six countries and around 7,100 employees, the group supplies the furniture industry, timber merchants, builders' merchants, and DIY stores with 7.4 million m³ of wood products and sawn timber.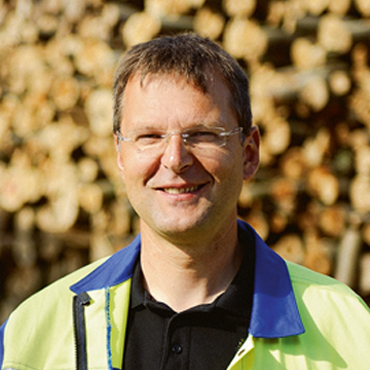 EGGER Holzwerkstoffe
This performance also qualifies LTW for tasks in the top weight category. This is why it was logical to contact LTW when looking for a partner to supply the new heavy-duty stacker crane.
PROJECT OVERVIEW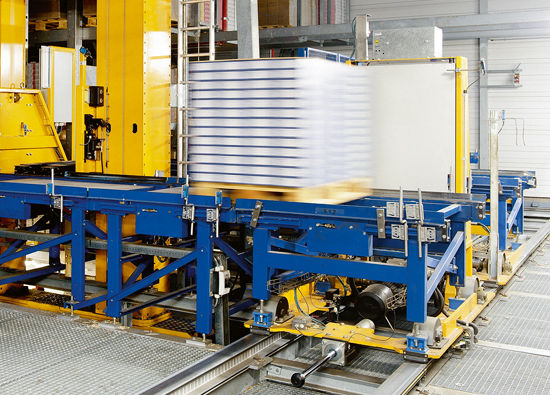 EGGER has an automatic high-bay warehouse, which was set up at a sensitive laminate production interface in 2001. Specially designed for high-density fiberboard up to 12 m² in size and weighing up to 8 tons, the fiberboard is hot-pressed and then undergoes a maturing process lasting several days. An additional difficulty is handling half-width pallets at maximum payload. The original stacker crane, which was not supplied by LTW, can no longer cope with such challenges. In 2008, plant management decides to invest in replacement equipment.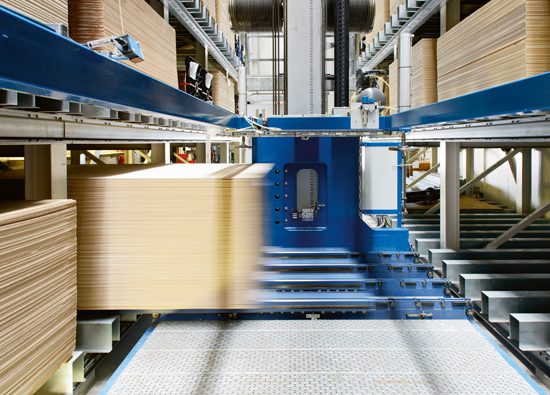 The extreme combination of factors such as overall height, payload, loading cubature, and eccentric load results in a stacker crane with components that exceed all the standard dimensions at 29-m tall and weighing a total of 45 t – twice that of a crane of a similar height in the pallet warehouse. One of the greatest challenges is assembling the stacker crane while production is fully operational.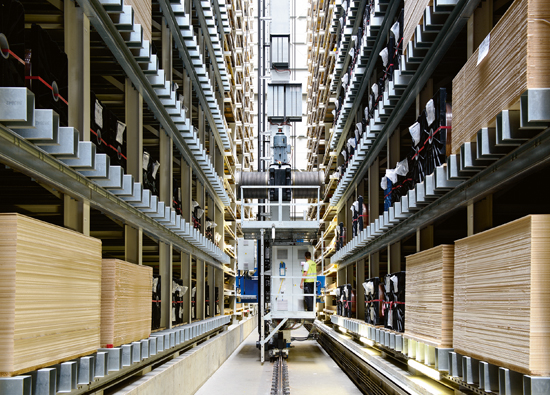 Keeping maximum safety and expense in mind, LTW interprets the kinetic values as conservatively as the required performance allows. As LTW is part of the Doppelmayr Group, manufacturing was not an obstacle – ropeway components are often much bigger. The RBG masts and head yokes are brought in through a narrow opening in the roof, the chassis and lifting carriage through a portal that is increased to six meters.
Follow-up orders
Customer satisfaction is not only expressed in words: it is not long before LTW receives a follow-up order for the EGGER headquarters in the Tyrol – this time it is for five heavy-duty cranes. They are around three meters taller and three tons heavier than the ones in Wismar