Competent, friendly, and fast – our Customer Care Center is your expert point of contact in all matters concerning the entire LTW product portfolio. Our experienced staff are there for you, and happy to advise you through all our information channels – in person, by phone, and online too, of course. Do you need on-site support? No problem – our field service technicians are also happy to help.
Even better service – with LTWcare, we can ensure customized service throughout the entire life cycle of your system. The maximum performance capacity and availability of the entire system play a central role here, and provide a sound basis for targeted and efficient support. LTWcare includes a variety of different service products, ranging from a TÜV-certified remote connection with the highest security standards and an innovative ticket system with state-of-the-art communication options, through proactive maintenance requirements.
The security of the IT infrastructure is our top priority. With LTWcare, we provide our customers with remote access based on state-of-the-art technologies. This ensures that you are fully in control of access at all times, as we can only connect to the parts of the system for which you have given us clearance. Our remote connection has also been awarded the globally recognized Trusted Product certificate "TÜViT". Certification is renewed every two years, so you can rest assured that LTWcare always applies the latest technology standards.
Guaranteed to be quick and easy: our LTWcare ticket system guarantees straightforward contact with LTW Customer Support – around the clock. Your support request can either be triggered manually, or directly from the machine itself, as required. Insight and transparency are evident at all times over the entire service process. All activities are continuously recorded in manipulation-proof log files and documented in the system file – which can be extremely useful if there are problems in future.
Optimum system availability is one of LTW's core competencies. Unwanted downtime is largely avoided, or greatly reduced, using our modern technologies. We can also use the system and component data to accurately plan our maintenance work. Coordination with the dependent production lines is then possible well in advance, giving you maximum planning certainty. Continuous, service-oriented data logging and analysis also ensure that optimizations are identified during operation and implemented immediately.
Our conference center makes multimedia tools available for direct communication between ourselves and our customers. Options include video and audio telephony, a chat function, and an interactive whiteboard – together with a TÜViT-certified remote connection. This is because even conventional means of communication such as mobile phones have their limits, especially in a hostile environment. LTWcare has the answer here with innovative communication tools.
Quick and intuitive: all the relevant layout positions of the installation are visually illustrated in the digital spare parts catalog, making it easy to navigate to the required replacement parts. Ordering is simple, with just a few clicks. Additional information on each component and regular content updates add considerable value for our customers.

LTWcare App
Keeping an eye on performance – with the LTWcare app, our customers can use their own smartphones to quickly check the status of a system, anytime, anywhere. The current operating state of the individual systems is clearly displayed, along with the most important key performance indicators.
LTWcare App
Even faster access to data and services – the LTWcare app includes numerous useful features to ensure even better transparency and service. For example, you can use the app to make a direct service request, look at the system documentation, or set up individual performance limits. If there are irregularities, you are then notified immediately.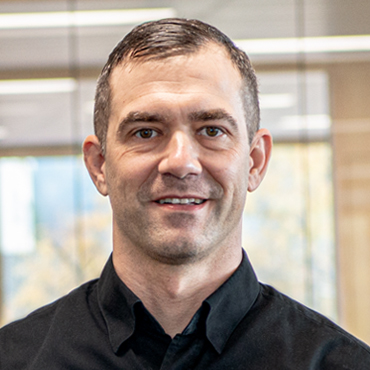 LTW Intralogistics
As a full-service provider, LTW is a reliable partner who will be there to support you, even when your order is completed and accepted – whatever the time of day.
Customized Courses and Training
Not many people are allowed in modern highly automated high-bay warehouses – but they make all the difference! We give you the necessary know-how to ensure trouble-free operation of the automatic systems. Everything you need to know about your turnkey logistics solution is clearly and intelligibly conveyed by our trained specialists in training sessions and units that are specifically tailored to meet your needs – these can either take place on-site, or at our head office in Wolfurt, as desired.
After Sales
The provision of spare parts is a major challenge for support and maintenance. But LTW is best placed for this as well. We offer delivery of replacement parts for proprietary and third-party systems. If you want to play it safe, we are happy to put together system-specific replacement part kits for you, to ensure the fastest-possible access. Alternatively, you have the convenience of ordering from our digital spare parts catalog – the visual illustrations of all the system components make it very easy to choose.
Minimum intervention, maximum effect – a retrofit by LTW retains the stable basic substance of your installations and systems, at the same time as significantly increasing their life span. Thanks to the many years of experience accumulated from more than 400 completed retrofitting projects, LTW covers the entire modernization and upgrading performance spectrum. As a full-service provider, we can assist you with all aspects of your retrofit project – from consulting and project planning to engineering and after-sales support.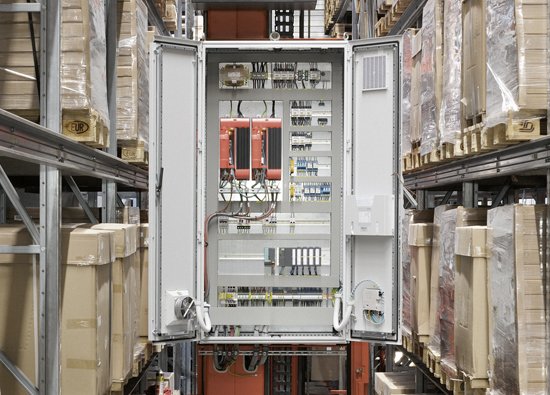 If a material flow system is getting a bit long in the tooth, routine servicing is often insufficient to ensure perfect operation. The system is more prone to failure and spare parts are no longer available on the market. Plus, if the system is also no longer state-of-the-art and component manufacturers no longer offer support. The consequences of all this are often a reduced handling capacity and less economic efficiency. The best and most cost-effective solution here can be a retrofit, building on the basic substance of the system.
From beginning to end – the retrofit team is the point of contact for all your needs, throughout the entire project. It all starts with an as-is analysis and project planning. Not only do we replace components, we also offer complete system refurbishment if desired – regardless of whether third-party installations or LTW systems are involved. The aim is to restore performance to the level of a new installation through customized system modernization, with minimal interruption to business operations.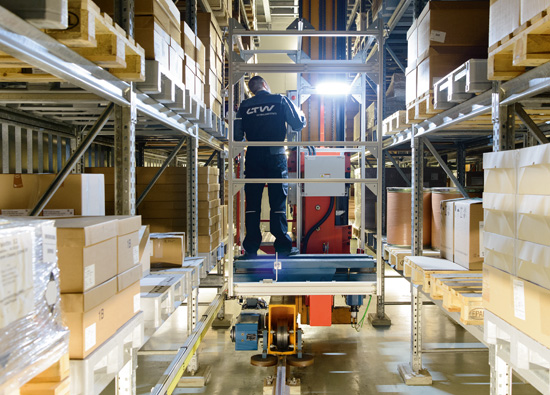 We start with the as-is analysis. The retrofit team checks the status of your existing system on-site, as well as using internal documents to search for possible sources of error. The customer then receives a comprehensive report and advice on how to proceed. When planning the project, we always pay special attention to the cost/benefit gains. As the high-bay warehouse is a central interface in many companies, the availability of the intralogistics is a top priority – so the implementation often runs in stages, while operation is ongoing, to keep downtime to a minimum.
The result of any system modernization is better availability – but you should never lose sight of the cost. A retrofit by LTW guarantees a reduction of your maintenance costs, ensures that replacement parts are available, and implements new technological functions. Functional reliability is sure to increase and sources of error are minimized. Now that you have a remote diagnostic option, fewer call-outs are required to your site – something else that saves you money.
Upgrading the old logistics IT to the current state-of-the-art boosts functionality for system operators. For instance, adjustments are made to identification solutions (barcode readers, RFID), order picking solutions are introduced, and operating systems, database servers, and the installed software are upgraded. Also not to be forgotten is the positive effect this has on the future maintenance unit – the flow of data is continuous, thanks to the new monitoring and evaluating tool.