Insights into the new LTW office
Our Service Manager Thomas Narbeshuber and his entire team moved into the new LTW building at Achstrasse 49 back in October 2021. We asked him how our colleagues are enjoying the new building and the benefits of the adjoining high-bay warehouse.
Thomas, have you and your team settled in well? What do you think about the new office?
The new office is a perfect fit for us! We were given the opportunity to get involved during the planning phase and our requests were implemented wherever possible. The office space, which is tailored specifically to our requirements in Service, gives us everything that we need for motivated and efficient operation.
What is your favorite part of the new building?
The bright room with modern facilities as well as the technical equipment leave absolutely nothing to be desired. The high-quality, light-colored solid wood furniture, the friendly, open atmosphere, and the break rooms on every floor provide maximum comfort. Glass is mostly used throughout and the managers' offices can be found in the middle of the employees. This not only shortens the lines of communication, it also lowers the psychological barrier of stopping by. You are right in the midst of the team.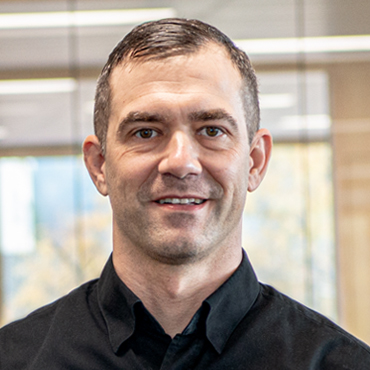 LTW Intralogistics
The absolute highlight of our new office building is the high-bay warehouse. The distance from the office desk to the goods in stock has been dramatically reduced. This lets us respond even faster and reach the customer as soon as possible if any problems occur.
What was the reason behind your department's move into the new building?
At Achstrasse 53 we had simply reached our capacity limits. We shared the floor with another department and there was no opportunity to grow any further. We had to split the teams and scatter them around the building. Now we once again have enough space and can continue to grow over the coming years.
You don't just benefit from the additional space but the new high-bay warehouse also offers you a range of benefits. Can you tell us a bit about it?
The new high-bay warehouse has space for 1,700 pallets and is equipped with state-of-the-art technology. But there is no doubt that the greatest benefit is the short distance from the office desk to the material. The warehouse gives us extremely quick access to our goods in stock. This is particularly important if problems crop up, so that our team has quick access to the necessary components and can reach the customer as soon as possible. Previously, we first had to travel to our external warehouse for certain parts. Now, everything is under one roof.
New office
Insights into the new LTW office
#ltw
#intralogistics
#HeadquartersExtension
New office
Insights into the new LTW office
#ltw
#intralogistics
#HeadquartersExtension
New office
Insights into the new LTW office
#ltw
#intralogistics
#HeadquartersExtension
New office
Insights into the new LTW office
#ltw
#intralogistics
#HeadquartersExtension
New office
Insights into the new LTW office
#ltw
#intralogistics
#HeadquartersExtension