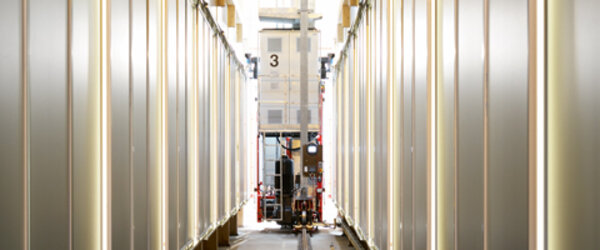 Think consistently, build sustainably, move ergonomically
Josera has been producing mineral feed and other products for livestock since 1941. Since 1998, they have also produced food for dogs, cats, and horses that is marketed in more than 30 countries. A family business in its third generation based in Kleinheubach am Main, Josera has 200 employees, and sets great store by entrepreneurial responsibility and vision. This is reflected in products such as the first milk replacer without skimmed milk powder, or in dispensing with in-feed antibiotics – a full 20 years before they were legally banned. Josera is also thoroughly committed to sustainability in its production and logistics – with "green electricity" and their own rail link at the headquarters, as well as at the new factory in Poland.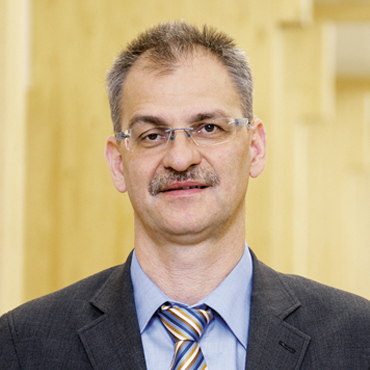 Josera Tierernährung
Sustainability at a reasonable cost: wood is in keeping with our philosophy. We are a family business that thinks in terms of generations.
PROJECT OVERVIEW
The question being asked at the start of the large-scale site project at Josera HQ gives imagination free rein: "How would we have to set up our production and logistics to double our turnover?" The answer lies in a three-stage conversion and expansion plan. Priority is given to intralogistics: processes are reorganized and entire production areas are relocated to reduce the distances that have to be covered. Various alternatives for an automatic high-bay warehouse on a nearby field are considered. At this point, the Josera team seeks advice and assurance from the logistics planner Luy & Partner.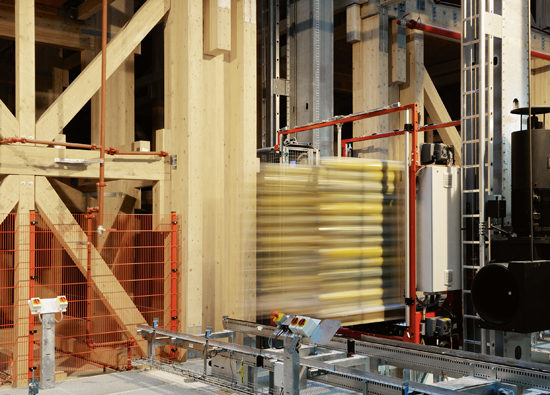 As the planner knows LTW, he draws Josera's attention to the world's first two high-bay timber warehouses already implemented by LTW. Although Josera and their corporate culture can immediately identify with this, they insist on more neutral planning and tendering. Right from the start, the sticking point for the intralogistics concept proves to be a space and time-saving order picking solution for the mixed pallets which make up around a fifth of the goods and mostly consist of 25 kg bags. Setting up a secure boundary between the order picking area and the stacker crane aisle proves to be particularly challenging.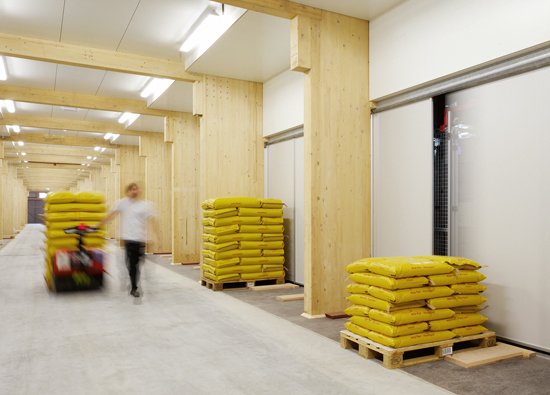 Three order picking tunnels on the lowest level of the high-bay racking allow the goods to be provided dynamically by automatic stacker cranes. This means that an external order picking zone, along with the associated floor area and transport routes, are no longer required. If this makes you think of narrow, dark aisles, think again: spacious circulation areas, bright lighting conditions, underfloor heating, and last but not least, timber as the building material, provide a motivating work environment. LTW delivers an economical and reliable solution with patented order-picking gates that slide horizontally. As the opening and closing mechanism is installed on the stacker cranes, the 324 gates do not require separate drives.
High-bay timber warehouse
Wood ultimately wins through in a detailed comparison with steel. The manageable extra cost can be justified by the benefits in terms of ecology, hygiene, and fire protection.
The implementation
The construction and assembly work is completed on a tight schedule and has to be synchronized with the dismantling of the existing logistics installations during ongoing operation.