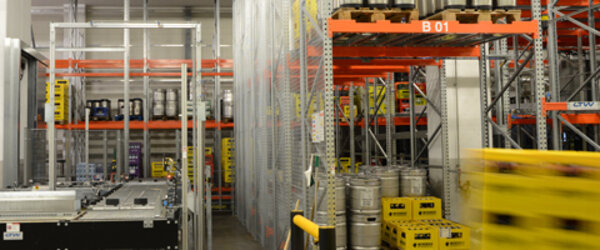 Project implementation during ongoing operation – in the peak season
The Mohrenbrauerei has been run by the Huber family since 1834, and is now in the sixth generation. Regular investment in the latest technology and professionally trained employees still ensure the long-term success of the brewery to this day. The Mohrenbrauerei has around 120 employees, and in 2016, achieved a turnover of 22.9 million euros and sold more than 18 million liters of beer, as well as 3 million liters of wine, soft drinks, and other beverages.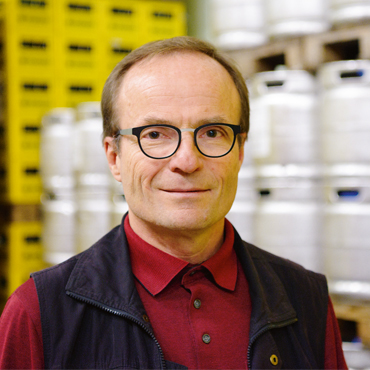 Mohrenbrauerei
We quickly realized that only a reliable full-service provider can handle this construction site during operation, in the middle of the city center, and during the peak season. So the responsibility lies in a single hand – without a time-critical clarification of interfaces.

Our employees quickly realized the benefits of the new, paperless workflow. The levels of stress and errors have dropped significantly. Everything runs smoothly.
PROJECT OVERVIEW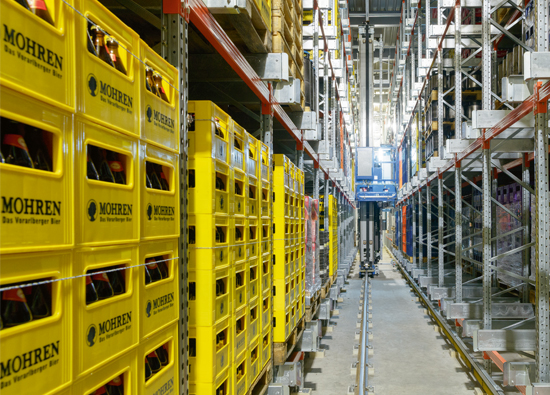 Over the years, the company has evolved from simply brewing beer into a general point of contact for the catering and retail trade, which means that it now provides not only beer, but also wine, water, and soft drinks. As the product range expanded, so the demands on storage intensified: goods handling becomes ever more complex – a new and intelligent logistics solution is a must!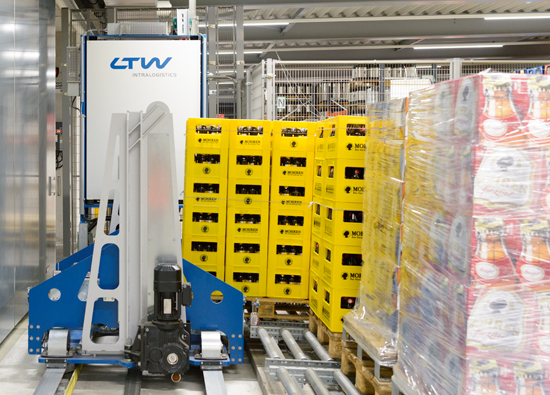 Simply increasing the size of the warehouse proves to be more complicated than expected: space is a valuable commodity at the traditional brewery location in the Dornbirn city center, in the immediate vicinity of the town hall. Even the way out of increasing the height of the building is a challenging venture, as it is limited to a height of 18 meters through the urban development plan. It takes around two years to plan the perfect solution.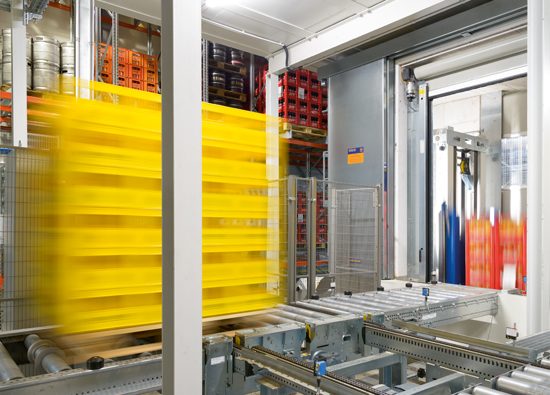 LTW creates an exclusive mixed model from the conflicting requirements of volume, performance, reserves, safety requirements, and costs, through a combination of manual block storage and automatic high-bay warehouse. The material flows are designed from the perspective of delivery. Forklift trucks deliver the articles that have the highest turnover from the block warehouse, all the other items go into the upper, multi-depth shuttle shelf, and from there, are conveyed into order picking as replenishment. To connect the stories and stations, LTW integrates a complex conveyor system, including a vertical conveyor and transfer car.
Great performance in a confined space
A two-story structure with rack aisles seven- and nine-meters high is predetermined for the intralogistics system by the existing structure. Additional space is provided by the construction of a new order picking area on the flying roof of the adjacent truck dispatch hall.
One contact for everything
As one of four providers, LTW has already distinguished itself during the tender phase with impressive layout proposals and performance data. In addition to the cost and a good reputation in the industry, LTW was impressive across the board.