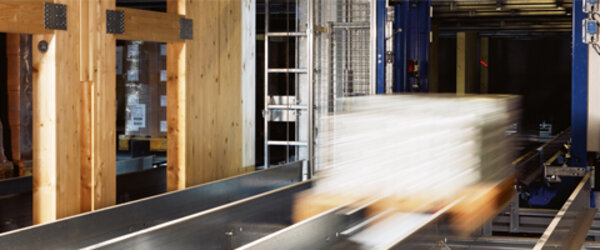 An innovative, timber high-bay warehouse accounts for a CO2 reduction of 880 tons!
Since its foundation in 1913, Offsetdruckerei Schwarzach has become established as a supplier of packaging solutions for the international consumer goods industry. At the Schwarzach site in the west of Austria, around 300 employees process 20,000 tons of cardboard and paper a year. In 2009, the company was one of the first packaging manufacturers in Europe to implement the natureOffice standard for climate-neutral printing: the CO2 emission values are continuously calculated for each print job. The more environmentally friendly the organization of the production chain – from cardboard production to logistics – the lower the compensation amount.
Offsetdruckerei
If friction costs energy, then right from the start, we are saving a massive amount of energy just thanks to the smooth operation of all material flows and interfaces – not to mention our personal energy.
PROJECT OVERVIEW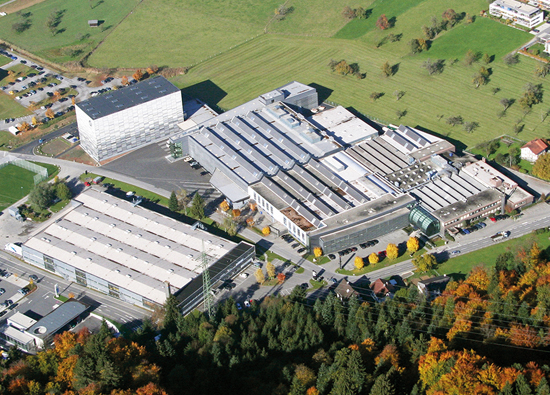 The double production capacity demands a new and fully automatic logistics center. The management board of the Offsetdruckerei therefore plan the most ambitious expansion since the company was founded. One thing is certain: climate protection is seen as a responsibility throughout the company – as well as a market strategy. The objective and scale of this is geared to securing a certificate for climate-neutral printing. Having such a logo on your packaging creates confidence, and with it, a competitive edge.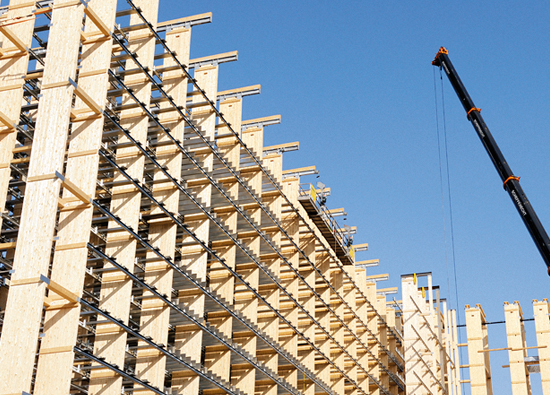 It becomes clear during the planning stage that the building material has to be wood – this was the only way to achieve a CO2 reduction of an astonishing 880 tons. Local spruce wood is also a renewable resource that does not have to travel far. And although the price of steel falls considerably during the planning phase, the added ecological value of wood ultimately outweighs the marginal additional charge. In any case, the extremely short construction period of just five months from the time the contract is awarded is only feasible if the building material is wood.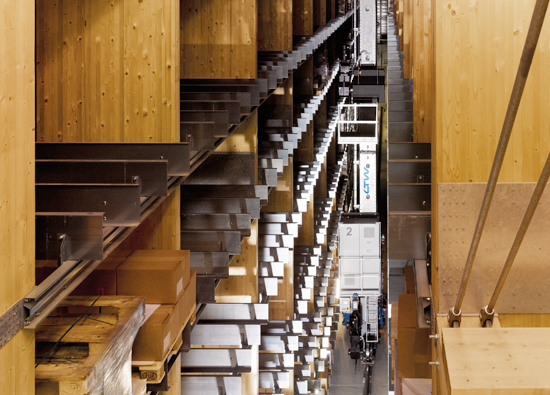 The energy-saving design of the intralogistics solution proposed by LTW contributes to the excellent CO2 balance sheet of the Offsetdruckerei. The weight-optimized design of all three stacker cranes, route optimization – a few new features are added to the current eco-standard at LTW. LTW takes advantage of the fact that every downward movement of the lifting carriage releases energy. This is converted into electricity and fed back to the grid.
Ecology in continuous operation
Each time the stacker crane operates, the travel and lifting speed are so well synchronized that both movements are terminated almost simultaneously.
CO2-neutral building material
A pioneer when it comes to timber constructions, Kaufmann Bausysteme from the Bregenz Forest is responsible for the innovative rack design. This tried-and-tested LTW partner was already on board for the first high-bay timber warehouse project for Salinen Austria.